What I didn't mention on Day 21 that it was Swiss national day! In the evening was also in the small village of Gruben some firework. We were only two people in the dorm room in the hotel and when the guy came in the evening, he had some wine left. He invited me for a glass of wine and we had a nice chat! He was only staying for the weekend in Switzerland and did some nice hikes I had already completed last year on my trip through Valais. Let's go onto Week 4!
Day 22 – Gruben to Zinal
So as I checked the weather forecast in the evening, it was supposed to be cloudy and eventually rain in the afternoon. I texted my friends whom were currently in their place in Villars if I can stay for two nights there due to the weather forecast. Helen said, I should try to walk to Zinal and come for a day. My plan was to have a early start that I can make it before the rain in the afternoon. Luckily, breakfast started already at 6.30am. It's been a while since I got up that early, but I made it 🙂 Breakfast was nice and I started hiking around 7am. The sky was clear and no clouds to see! I was really surprised but didn't rely on it too much, because the weather can change here so fast! As I was in the valley the trail began with a climb… I felt really good in the morning and the climb was over so quickly. Just underneath the pass there was a beautiful lake and I had a short break there. Soon after I stood on the pass only to realize it was just 9.30am. Wow! I guess I've never been on a pass so early. I already hiked a 900 metre elevation gain (new personal record, 900meters in 2.15h)! The views were stunning and the weather still great!! You could see Weisshorn, Bishorn and soooo many more high mountains. I could already see the Weisshorn Hotel in the distance, where I was familiar the trail. It was a nice walk down and as I descended it gradually became crowded with tourists. When I was at the Hotel round about 11 o'clock I treated myself to a nice cup of coffee and a delicious piece of myrtle berry pie! Soon the darker clouds approached and I knew I had to carry on to Zinal. The walk to there was really nice on the mountain side with perfect view to Zinalrothorn, Dent Blanche and even the Matterhorn!! I had a lunch break and then descended to Zinal. I was familiar with the walk from last year, where Walker's Haute Route (also a really nice walk). In Zinal I had a beer, it was a long and exhausting day! Just as I walked to the bus stop it started to rain – perfect timing. It was a long ride to Villars, but a really nice one 🙂 Helen picked me up at the train station and we walked together to their place. We had a lovely evening together!
two rest Day in Villars / Sierre
The day I stayed in Villars it rained the whole day, so perfect for a rest day! We were indoors all day and played cards and I had catchup calls with friends and family 🙂 Helen made some delicious food and it was really relaxing. In the evening we watched "the revenant", which was a lot more intense than I thought.
I really enjoyed the stay and the company! Thanks again Helen and Malcolm for the lovely stay and the endless hospitality!! The next day I met my brother Peter in Sierre where went grocery shopping and then later in the afternoon we took the bus to Lac de Moiry. I had to skip the section from Zinal to Lac de Moiry because they were construction works and the trail was diverted (and I already hiked it last year). When we arrived it was kinda chilly, so we set up our tent pretty quickly.
Day 23 – Lac de Moiry to La Sage
Before going to bed, I set the alarm for 7am. When I woke up I could already feel the chill outside. Reluctantly I had to go outside because I needed to pee. As I opened the door icicles were falling off. It was freezing cold. When I overlooked the grass it was all white and frozen. The weather was absolutely great, not a single cloud in the sky and the mountains had surfaced fresh snow. It looked gorgeous!!! But it was too cold (also for me) and we stayed for at least another two hours in the tent 🙂 Then finally the sun hit our tent and we had breakfast outside! It was for sure my coldest night on the whole trip. It took a while till everything was packed and we started our hike (finally) at 10.30am. My brother had some issues with his ankle and was generally not in great shape, so we took it slowly. It was first going uphill to the Col de Torrent. After an hour we reached a nice little lake where we encountered a large herd of Eringer cows and I got my cautious of them. A strange lady on the other hand did the complete opposite and tried to pet the cows to get photos. Peter and I made the pass within 2 hours, which was really good. Due to the perfect weather there was a crowd of day tourists having lunch up there. I've never seen so many people (about 30) sitting at one spot on my whole hike so far. I was a little shocked, but I couldn't blame them, it was a great spot with stunning views. You could see Mont Blanc and so many more mountains and glaciers, just incredible!! The pass was about 2900 meters above sea level but it was still so hot. We had a really long break, about 2.5 hours then we made our way down. I was really not used to do such long breaks 😉 The downhill was steep in the beginning with endless switchbacks. I took the lead and had to wait for my brother to catchup. He was super slow and I was concerned we won't make it all the way down on time. Due to Peter's poorly knees we decided to call it a day and camped at a convenient spot. There was a fountain with little water enough to fill the bottles for dinner. Also there was cow poop on the ground. We set up our rainfly to get out of the sun and chilled in there the rest of the afternoon. We had the perfect view from tent to a glacier, mountains and concerned about the cows however luckily didn't bother us.
Day 24 – La Sage to Arolla
We woke up and could hear the cowbells. As we looked outside they were going in our direction. I think we never packed as fast in the morning as we did this day. After we packed everything we had breakfast and walked down to La Sage. Yesterday we checked our options with the bus and we actually got it. I know from last year that the trail isn't anything special to Les Hauderes, so I didn't mind to take the bus. When we arrived there, we went straight to the grocery store and the outfitter. I borrowed my hiking poles to my brother, because he didn't take his with him. Also we ate most of our food and had to resupply. For special occasion we bought also chips. We had an easy day today 🙂 The plan was to hike to Arolla, which was only about 2 hours away. As we started it was around midday and super hot and of course the trail went uphill in the sun. Our lunch spot was close to the river and in the shade. Peter carried a small bottle of red wine, as it was already the second day we finally drank it. Wine for lunch why not, right! It was the beginning of a day we had a lot of alcohol (for a hiking day). I wasn't always as happy that we were so slowly, but I enjoyed it. I had enough hard and long days and this was a nice change! As we went on the trail was nice flat and followed the river, where we also washed our hair. For the night we stayed at the campground. It was located underneath the village of Arolla. Before walking to the campground we had a beer in the pizzeria. After we set up our tent we showered and then walk again to pizzeria and ordered pizza. The restaurant was already full so we had take away. We bought some wine at the camping and enjoyed our meal. What a relaxing day (with lots of beer/wine)!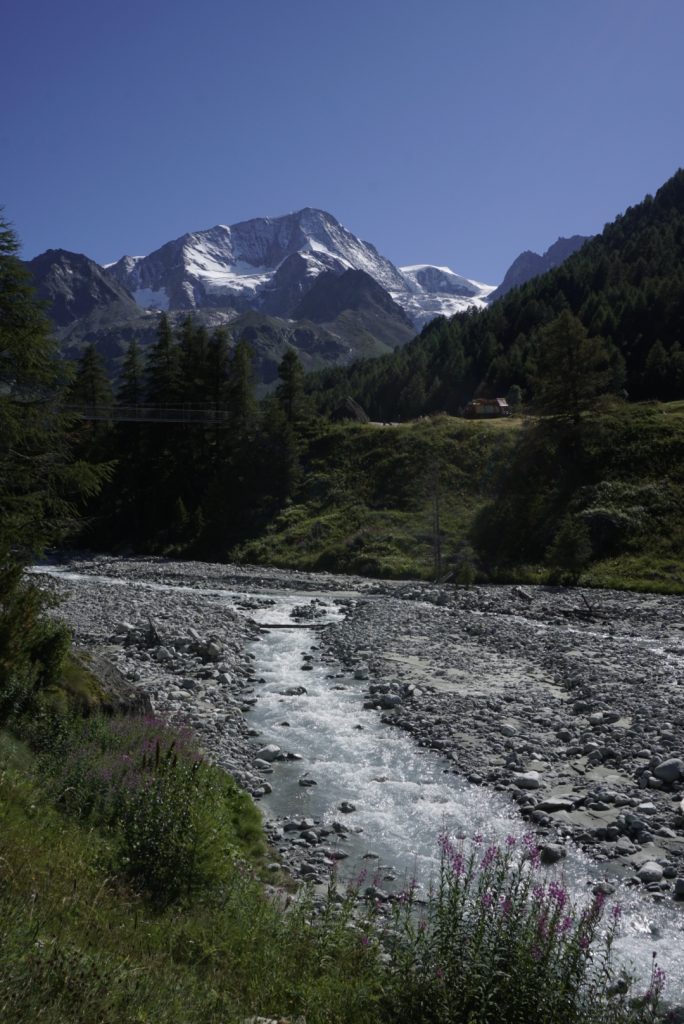 Day 25 – Grande Dixence to (above) Cabane de prafleuri
We decided to skip the next stage because the trail wasn't as well maintained and the stage was also too long for Peter. So we took the bus to Grande Dixence in the morning. Grand Dixence is the biggest dam in whole switzerland and it's really massiv. The height of the dam is about 285 meters! Also it is the world's highest gravity dam and for sure worth to visit 🙂 At the bottom of the dam is a hotel and a exhibition about the history of it. It was really interesting to see and learn more about they build it in the 1950s. Then we took the cable car up to the crest of the dam. We actually wanted to take the zipline across the dam but sadly it was already sold out for the day… I guess, next time! After walking along the crest we had lunch. Then we finally started walking towards the cabane de prafleuri. It was a nice hike but also kinda mean. Firstly it went down and then all up again haha. At the cabine we weren't sure what to do! I was pissed that we didn't walk as much as I thought and Peter was also not sure if he can do this any longer. We agreed that we split tomorrow's stage in two days and went for a beer up to the hut. After that we hiked about a half a hour further till we had a nice spot for the tent. We had dinner, pitched our tent and enjoyed the nice view to the mountains. Ah and we had a little portrait photo shooting 🙂
Day 26 – (above) Cabane de Prafleuri to Grand Desert
The sun hit us that day very early and we had breakfast outside! We didn't had a hurry, so we left camp at about 9.15am. The trail was leading up to the pass, which took us a hour. 10 min into the day we met a trail runner who forgot his sunscreen at home so we gave him some of ours. He was running a huge loop when I looked afterwards at the map (these trail runners are just crazy)! From the pass you had an amazing view to other side, it had a few lakes and was looking very rocky! We met another guy up there, and we chatted a bit. He was a teacher and was for a few days in the area. Peter and I chilled up there for a while, he was reading and I took a nap. When more people arrived we made our way further. It took us a while to get down, because there was no trail just boulders to scramble. The flat bit was partly covered in snow and the trail went uphill for a bit again. There were some risky snowfields to pass, but we made it safely! At one of the lakes we made our lunch break. It was really warm but the lake was still too cold to dip in. Just when we wanted to finally leave and make the final push for the day a friend of Peter walked by! What a coincidence to meet a friend in somewhere of nowhere 😀 We went down to another small lake and pitched our tent there! It was afternoon so we decided we could take a short dip in the lake. I can tell you, it was super cold and I stayed only for a second inside… Nobody was around so we went in naked 🙂 The place we've been was kind of a high plateau on 2700 meters above sea level! After dinner something very special happened. We walked to see if there's reception, when we came back to the tent about 25 ibex were standing across the lake!! They came in our direction and ate every little grass piece they could found. I've never seen so many ibex at one place and not this close. I hurried to the tent to get my camera and started to take pictures. It was simply amazing and stunning to see those animals so close. They didn't care about us at all! My brother was afraid and wanted to get the poles. In that moment two of the ibex started a fight right in front of us… woww! The whole herd went by us and we watched after them till they were over the next hill 🙂 I think it was the best evening of the whole trip!
DAy 27 – Grand desert to Fionnay
I couldn't really fall asleep, because I was worried about the ibex haha. In the morning we slept longer than planned and started hiking around 9.30am. I wasn't in the best mood because of that. It's just not my personal style to start hiking at 9.30am xD. We didn't had much food left so the plan was to eat lunch at the Cabane de Louvie. The first hour we walked up to the pass. On the way up there we saw our friends, the ibex, again! The trail was rocky and partly covered in snow. As we got up there we could see Mont Blanc again and the Grand Combine massive with his stunning glacier!! We had the best weather you can imagine, it was the fifth day with blue sky and sunshine 😀 After the pass the trail got even shittier. We had to cross a field with boulders and that took his time… You gotta be careful to traverse these because it's easy to make a wrong step! In general the way down to the hut felt endless, it went on and on. The last bit was going steep downhill with little switchbacks. Next to the hut was this turquoise colored lake, which looked from above just amazing! You could see the lake from far above and it took us for sure more than a hour to get to it. When we arrived at the hut it was about 1.30pm. They had a big buffet of Salad and potato gratin, yuuuuummii. I was so hungry and ate a lot! We also had pie and coffee. There was no reception at the hut so we ask the lady of the hut when the bus is leaving. Because I really had to resupply and get fuel. It was a Sunday and the shops are closed almost everywhere. So we had to go all the way to Verbier, which is a famous place in Valais and lots of tourists are there. We hurried down to Fionnay to get the bus and my knees were done after it! 700 meters downhill in 1h10min… Luckily we made it to the bus otherwise we had to wait for 2 hours (because we're in middle of nowhere). I was doing my resupply and also bought dinner for us. For my brother it was the last evening, before he went home the day after. Everything was going well, beside that I didn't find gas at any shop… I was going mad, because I need it for cooking dinner. We had to leave and get to the camping for the night with the bus, so we left without any fuel. Finally at the camping we set up the tent and had a little argument. As the girl from the camping came I asked her for fuel and you know what?! She had some!! It was a really small camping and we really didn't expect it 🙂 I was so happy and my hot meals are saved!! We enjoyed our last evening together 🙂 I also washed my shirt because the smell was just unbearable.
Day 28 – Mauvoisin to Cabane Brunet
After saying Goodbye to my brother I took the bus to the Dam of Mauvoisin. As my brother left the perfect weather also left. In the morning were already some clouds on the sky. When I arrived there I had first breakfast and then started hiking. Firstly it was going uphill to the pass. I felt really good and was also happy to back at my pace 🙂 Don't get me wrong, it was really nice having my brother with me! But I also like to be by myself 😉 Up on the pass there were still some snow patches. The geology on the pass itself was really interesting, there were two totally different rock layers. I sent some messages and then went on to the hut. As I descended it started to rain so I packed my camera in my pack quickly. The descent was really steep and I hurried to the hut! I drank a coffee in there and waited for the rain to stop. Luckily it was just a short rain and I continued walking. It was already lunchtime and I was hungry so I stopped. After it went over a really long and cool suspension bridge which is made by a famous Swiss bridge builder. Toni Rüttimann is building bridges all over the world to help people. He is using old cable car ropes for building them and the bridges are always for free. The weather wasn't as good and soon after the bridge it started to rain again. My actual plan was to hike all the way to Cabane de Mille. But as the rain started I only made my way to the Cabane Brunet. It took me about a hour to get there and luckily it didn't rain the whole. When I arrived there you could hear loud music and I had no clue what's going on! I had pie and coffee there and asked if I can stay the night there. From the guys sitting with me on the table I got to know that there's a music festival going on. I was happy to stay there, because the weather was still bad. I had a nice dinner and chatted afterwards with two other women, who made vacation up there. We sat outside and watched the lightning show in the sky! I was really tired and went to bed early.
That's all for that week!