Wohoo, I'm already halfway! It's been 9 days since I started the trail and what hell of days they were.. Time on trail is flying by and on the same time it's going so slow because you expirience and see so much cool stuff!
The weather was the whole first week pretty mixed up. There were (a few) good days and there were miserable days! On the first day I actually wrote a seperate post about it, check it out!
Day 2 – Sargans to Untersäss (Weisstannen)
The second they Elena and I walked the whole day through the Weisstannen Valley! This Valley is quite untouched and it feels really remote though you're not far from Sargans. I was really surprise how beautiful it was! Highlight of the day was for sure the Schnaps Bar in a little Birdhouse from the trail crew 🙂 We had a half glass each and it was actually before lunch!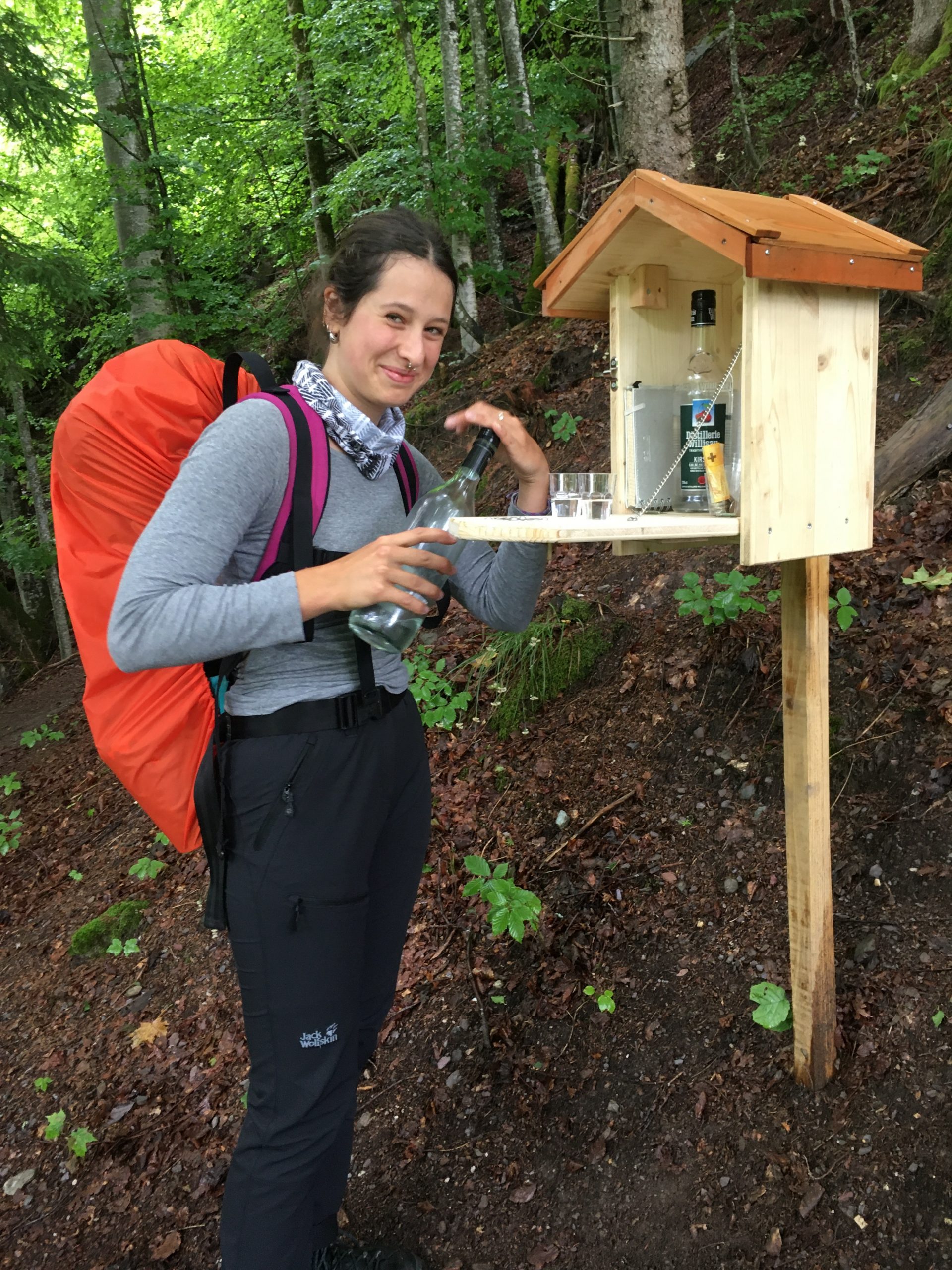 We had a really nice campspot next to the river, which was really loud. We've been lucky with the spot, no cows were there! That's making it quite hard sometimes to find a good spot. Of course it rained on us when we got water from a fountain and I had (for the first time) my down jacket on and not my rain jacket.
Day 3 – Untersäss to Elm
It started all good, but already a hour into the day it started to rain and it wouldn't got better for the rest of the day! We made our way to the first Pass, Foopass, on about 2200 meter above Sealevel. Luckily there no snow anymore to cross! I packed my phone and camera into the pack, so I don't even have a picture of the Pass! It was just a very miserable day. With the rain also the cold came and this made it even worse. On the descent to Elm we stood once in front of a herd of cows and we had to go through them! Haha it was fun afterwords, but in that moment not really. With the miserable weather my motivation was really low and I just wanted a warm bed for the night. So I treated myself with a (pricey) hotelroom! Elena left on that day, which I could totally understand.
Day 4 – Elm to Linthal
On Day 4 the weather finally changed! As I looked out of the window in the morning the sun was already shining. After a nice breakfast in the hotel I started to hike uphill! I was feeling really good that day. Before the pass there was still some snow and it got steep. There was also a little plateau before the pass, it was soo beautiful! I even saw some young chamois, the highlight of the day 🙂 The descent of Richetlipass was steep and long till you came to a dirt road, which leds all the way down to Linthal. And of course I crossed many cows as every day! I pitched my tent right before hiking down to Linthal. It wasn't a great spot as found out pretty quick after pitching. It was heavily raining and I had a little puddle in my vestibule.
Day 5 – Linthal to Urnerboden
As I thought the weather is actually getting better I was profen wrong. I started hiking down to Linthal, where I went resupplying some food. Soon after I started the climb up to Braunwald. I imagined the view must be amazing, but everything I see was just a grey wall of clouds. I hiked further into the clouds. The trail that day was super muddy from all the cows. That's because the hiking trails go ofter through cow territories and then the trail is pretty messed up by them. So I was hiking slowly. As I came to Urnerboden, which the whole Plateau is called the rain started again. I walked a bit on the main road and was kinda hoping a car would stop. But nope, not a single car stopped and I was kinda not in a good mood after. I was hiking fast, because it was flat and I really wanted to get out of the rain! In town of Urnerboden I went to the guesthouse and asked them if I could sleep there. It was still early as I came there, so I had lots of time to shower, dry my stuff and drink coffee and write in my journal. Later in the afternoon another via alpina hiker came! He was walking the other direction. We had a really great evening together sharing stories and laughing a lot.
Day 6 – Urnerboden to Attinghausen
I overslept that morning. The beer in the evening and the nice bed made me sleep like a baby. Jeffrey and I were having breakfast together and then set off. It was really fun to talk with someone that understands! Thanks again Jeffrey! I hiked up to Klausenpass in about 1.5 hours. Up there it was busy with motorbikers and cars, so I kept hiking downwards in direction to Altdorf. The trail was leading up high for a while and the views were really amazing! The weather wasn't perfect, but you could see some mountains. Down in the valley it started to rain again like almost everyday. It was a long say and I was really tired already in Altdorf. I was standing at the memorial of Willhelm Tell and planned where I could camp this night. I walked through the town to another village and a bit uphill till I found a good place. For the first time I cooked dinner outside, what a highlight!
Day 7 – Attinghausen to Gerschnialp (Engelberg)
I started pretty early that day. In the beginning there was a steep climb up to Brüsti, where also a gondola was going up. That makes it not as safisfying, but I made it anyway 🙂 After this climb the clouds were coming and it was a whiteout. So I made a break and put my jacket on, because it was cold. Then I walked in the clouds to Surenenpass. Sometimes I could see a climbs of the surrounding mountains and als the Lake! When I could the see the top of the Pass it was all covered in snow. Luckily there were already some hikers going up so I can do it aswell. The snow was pretty slushy and I didn't had my microspikes with me.. but I made it! On the other side was to my luck no snow anymore, so I walked easily the valley doen. It was Sunday and lots of people where in the trails and also tons of mountainbikers. The trail was mostly on a gravelroad to Engelberg and it went on and on. I was running out of Food and was really happy to see that the Shop was open. Which is not normal in Switzerland!
Day 8 – Gerschnialp to Innertkirchen
When I looked out of the tent in the morning all the Mountains were in clouds. First I had a steep climb up to Lake Trüeb in front of me, again under the gondola. I made it within a hour and up there the weather wasn't better at all so kept hiking to Jochpass. Up there it was a whiteout and I went to the reataurant and had some coffee. This is the way how I treat myself these days 🙂 After I hiked down to Engstlenalp and the weather was getting better and it was suddenly warm! Because it rained in the morning there were so many salamander out on trail, I counted 13! I got super terrified when out of nowhere a big bang was shot!! Finally the weather was getting better and it was suddenly warm. The Via Alpina was closed for the next bit because of constructon work. They used dynamite to bust some mountain away, that's why the bang.. I didn't wanted to walk some extra kilometers so I decided to walk the road down to the valley. It still was a nice walk 🙂 I even saw some baby ducks. Down in Innertkirchen I stayed at the campground. I phoned with my mom to arrange all for the next day. They were planning to visit me in Grindelwald!
Day 9 – Innertkirchen to Grindelwald
I woke up from the noise of the road next to the campground. The weather was amazing! Not one cloud was so see and it was already warm at 7am. I made my up to the grosse Scheidegg, which was endless. The trail was mostly next to the road.. but the views on that day were incredible!! I had this huge mountain right in front of me, it was really impressive! I took a long lunch break in the sun and dried my tent and everything which was wet. It was soo nice to finally have sunshine 🙂 On the grosse Scheidegg I still needed about 2.5 hours to get down to Grindelwald. There I was really tired and excited to see my parents. We went out for dinner and had a nice evening. Our room had an amazing view of the Mount Eiger!
So that was it, the first half of the Via Alpina! I took a zeroday in Grindelwald, which I thought I earned 🙂 Looking forward to the other half of the trail.
Stay tuned guys and happy trails!