This article originally appeared on The Trek, which you can read here.
In my previous post, I've written how I sadly went off-trail. And that only after three full days on the trail due to my knee pain. I went with the bus to San Sebastian to figure out something else to do in Spain. I gotta tell, it wasn't easy. Never have I quit a trail and it hit me therefore pretty hard. To lighten my mood I wanted to stay at the beach. But guess what, when I arrived in San Sebastian it was raining and damn cold for Spain…
My knee trail angel
Luckily though, the table turned in a good way! Chase, the guy from Youtube messaged me on Instagram and offered to help me with my knee. He was pretty sure that my injury was treatable and that I can finish the trail when I'm maintaining my knee. First I wasn't sure but he really encouraged me, so I packed my bag. You can imagine how excited I was to get back on trail! While I was in San Sebastian I kept in contact with Sara, the girl I met before going off-trail in Elizondo. I decided to skip the two days and take the bus to where she was, that we could hike together. If I can choose between hiking with people (and what a person!) or hiking by myself, I always prefer hiking in a group 😀 Guess it's good that I'm not a purist.
BEST SECOND START EVER
There's this saying on trail – the trail provides. Oh man, and how it provided! When I arrived with the bus in Burgette, I felt like the luckiest girl in the entire world. The weather improved all of a sudden and I had the best company you can ever imagine. I'm always amazed by people that you immediately click with and give you the feeling you know them already for a long time. Sara was one of this rare kind! It was already late afternoon when we hiked out of town about 5km. There we set up on a nice spot in the forest with a nice view of the fields.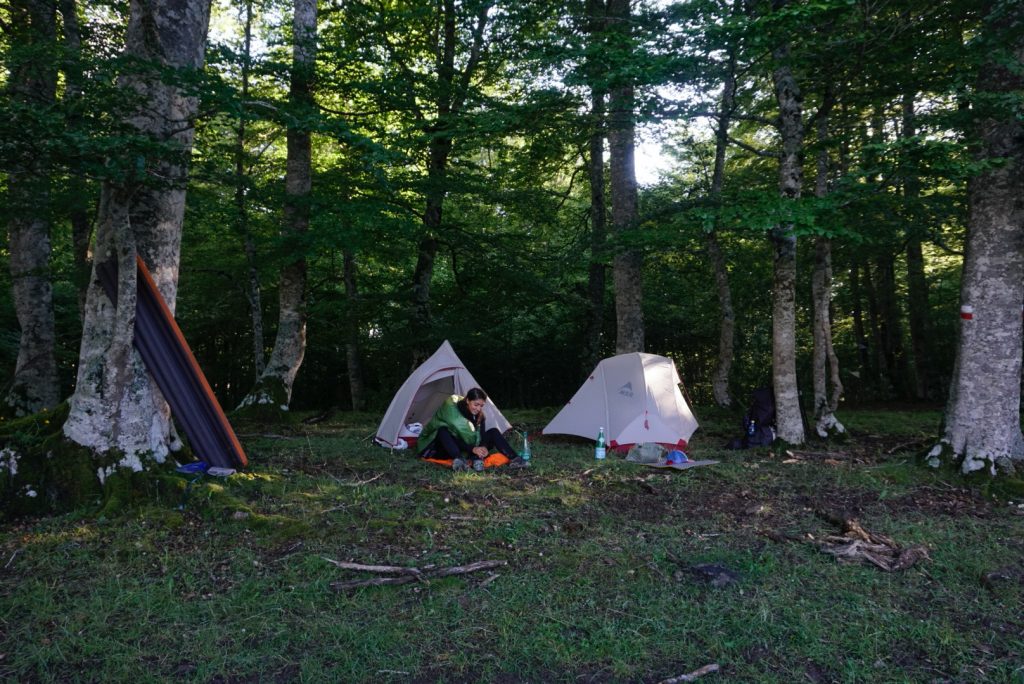 Our mornings looked mostly like this: we set down our tents and had breakfast outside. The packing went quite fast, breakfast then took its time. After all, packed up, we stretched for about 5-15min. Depending on how cold it was outside. Before this trip, I didn't stretch that much on a hike. But Chase told me if I wanna hike the whole trail, I gotta do the exercises to improve my knee every morning and evening! So, I did. I was happy to be together with Sara because then we could remind each other and actually did it. My discipline would have been not enough. Usually, it took us about an hour to leave camp and hit the trail. In the end, we got lazier and lazier and it took us about 1.5 hours.
---
DAY 5
The first day Sara and I hiked together was a very memorable day! The trail went the first bit through the forest and then on a dirt road thru meadows. At one spot there were young horses on the road! It was the first horses we saw on trail, many more to come 😀 The weather was great for the first time in days. We had a small snack break in the little village called Orbara, situated underneath some beautiful limestone rock formations. The following ascend was hot and we had to carry out a lot of water. Normally the water situation was pretty good. But after the next village, each of us carried 4 liters. The pack was heavy!
…
On the way up, we met two Germans who looked for their mule. He ran away in the night and they were searching for him since. We exchanged numbers in case we see the mule. Unfortunately, we didn't. After a steep and hot ascent we finally made it up there and we couldn't believe our eyes. We saw, for the first time, the High Pyrenees! After being in the forest for a while the ridge opened up. The views were endless! You could almost see back to the Ocean and ahead to the high mountains, which we were soon there to climb. Our excitement was big 😀 Also, there was another herd of horses upon the open ridge, pure magic!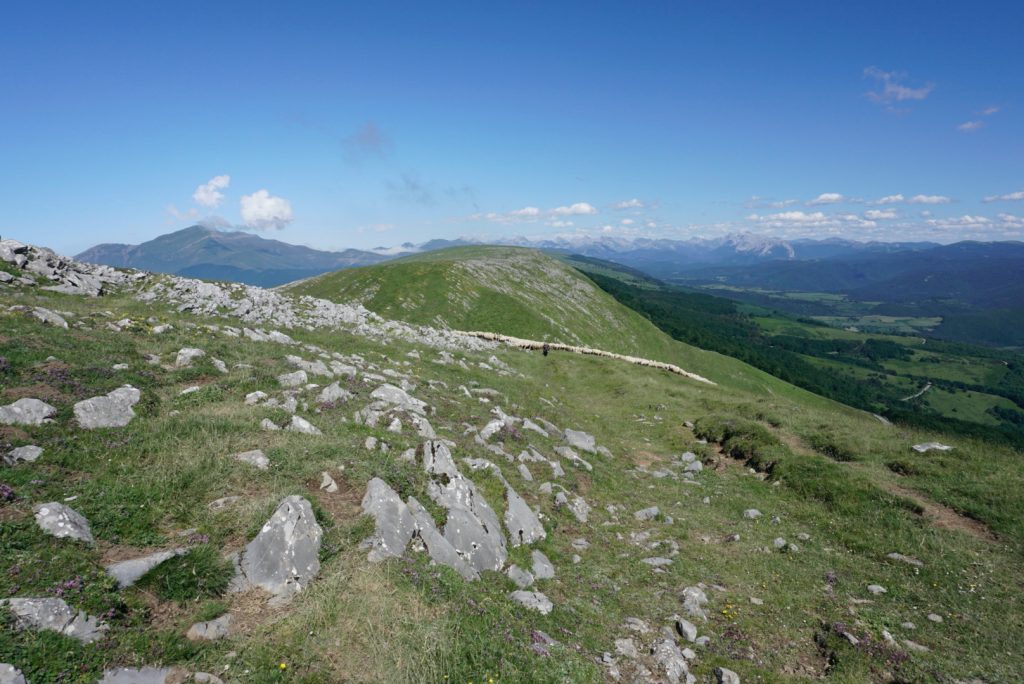 The cool thing about the GR 11, there are many unmanned huts (also called bothy by the brits) where you can stay in. Mostly they were located somewhere up high, which is normally kinda risky with a tent because what if the weather changes. That day we were lucky to stay in our very first bothy. The location was phenomenal! It has been a long day, we hiked about 25km and we were tired. While letting our food soak we stretched outside. Also, we met the french girl which we saw earlier. It was nice to not set up the tent and just the footprint inside the hut. We had dinner inside protected from the wind. In the evening two bikers came and also stayed there, gladly the hut had two rooms.
---
DAY 6
During the night the clouds covered the views, but in the morning all was clear. We started quite early around 6.45 am and started hiking down to Ochagavia. It took us about two and a half hours to get there. The descent was long and in the end very steep. Due to that, I felt my right knee and we had to take a break to roll it with the trekking pole, which helped immediately. Unfortunately, the shop in town wasn't open yet when we arrived. Therefore, we went into the panaderia (the bakery) to get bigger water bottles and I got a pastry. When finally the small groceries shop opened Sara went over there and I watched the packs. After a much longer break than planned, we hiked out of town.
…
The trail went on a dirt road almost the rest of the day. But we didn't mind it, at least you can hike fast on a road and it was going gradually uphill. About 2.3o hours in, we had lunch at a little cabin. There wasn't a lot of shade on the road, so it was nice to sit a bit inside while eating lunch. The hike wasn't that interesting after lunch, we just followed the road along the hills and then finally left the road. We set up camp around 4.30 pm and had a long stretching party. My knee was already doing so much better! It's impressive how these simple exercises help so much and so fast. In the evening we were surrounded by three thunderstorms, but luckily none of them went over us.
---
DAY 7
Damn, it was a windy night. We left camp without having breakfast which I normally hate to do. But it turned out not too bad I must say. After an hour we stopped at a small chapel and had breakfast there. Soon after we walked into the town of Isaba. Shortly before though, we met the first thru-hiker coming from the Med! We chatted for a while and he gave us some tips on where to camp. In Isaba, we bought some bread in the bakery and then hiked on. Our plan for today was to make a Nero (only hike half a day) today.
The trail went once again on a dirt road through a beautiful gorge though! It was the first big rock wall we saw as we started. We crossed into the state of Aragon, which is the home of the high mountains! We arrived at camping Zuriza around 12.30 pm. That place was the biggest disappointment so far. We planned on buying food at their supermarket, which weirdly didn't exist anymore. Also, they didn't have wifi (they kinda had, but didn't give the password). We wanted to wash our clothes, which we didn't wash in a week (disgusting smelly). But of course, they didn't have a washing machine or dryer. It was a total disaster!
…
All we wanted to do is rest, but we were busy all afternoon figuring out what to do. The lack of food was a big issue. We had to walk for at least 1.5 days to the next town. Gladly two Spanish guys gave us their leftover nuts, which saved us in the end. We ended up eating in the restaurant lunch and dinner to save our food. It was also hard to get some good vegan food there. But hey, we survived!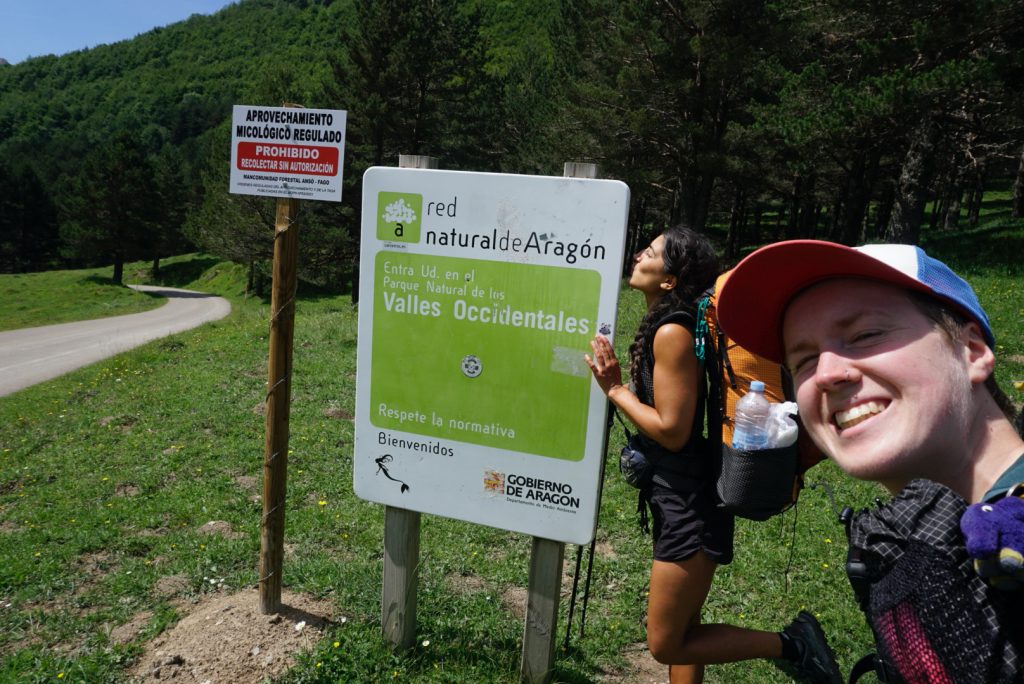 ---
That's a wrap! The first week on trail done and about 165km into the GR 11. The time flies on the trail, but at the same time, it feels like you spent already a month there because of all the happenings!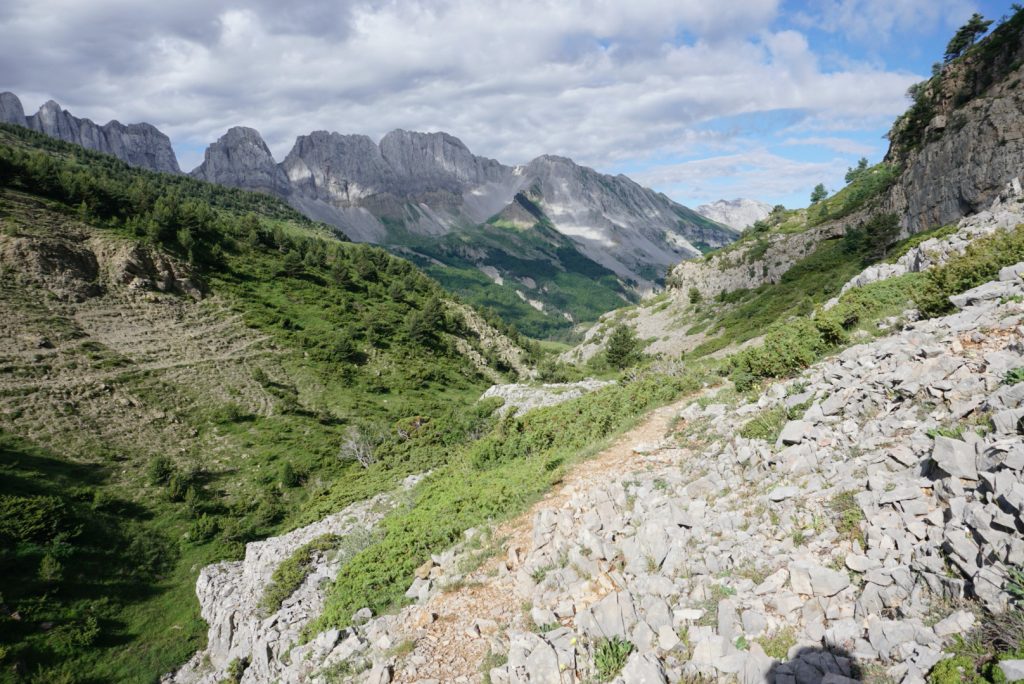 In Week 2, Sara and I enter the High Pyrenees. Stay tuned for the next post 🙂